Skip to Main Content
It looks like you're using Internet Explorer 11 or older. This website works best with modern browsers such as the latest versions of Chrome, Firefox, Safari, and Edge. If you continue with this browser, you may see unexpected results.
Websites and Links
Onda Latina-The Mexican American Experience

The Onda Latina Collection consists of 226 digitally preserved audio programs including interviews, music, and informational programs related to the Mexican American community and their concerns from the radio series "The Mexican American Experience" and "A esta hora conversamos" the Longhorn Radio Network, 1976-1982.
Digital Literacy and Reference Librarian
Anacely Lopez Murphy
She/Her/Hers
Instructor of English and MAS Symposium Director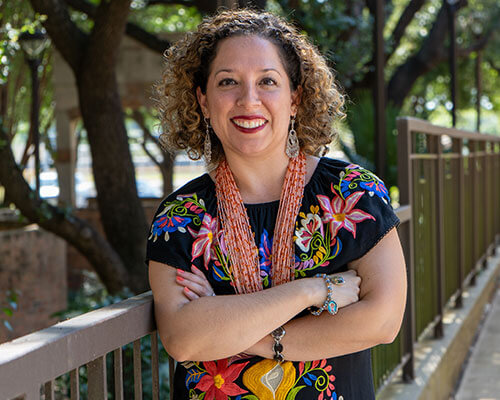 Contact Information:
Margaret Cantu-Sanchez, Ph.D.
Chaminade Tower 417
St. Mary's University
One Camino Santa Maria
San Antonio, TX 78228-8608
mcantusanchez@stmarytx.edu
Current Exhibit - Fotoseptiembre 2022
Other Fotoseptiembre Exhibits are listed at https://fotoseptiembreusa.com/fotoseptiembre/2022-fotoseptiembre/
LOUIE PRECIADO (San Antonio, TX)
The Preciado Grandparents
Saint Mary's University – Louis J. Blume Library

One Camino Santa Maria, San Antonio, TX 78228
(210) 436-3441 | https://stmarytx.edu
Opening reception: Friday, September 16, 2022, 4 – 5:30 pm
Exhibit on display: September 16 – November 28, 2022
Viewing hours: https://lib.stmarytx.edu/home/hours
Contact: Brian St. John (210) 473-8331 | bstjohn@stmarytx.edu
Free and open to the public
The Preciado Grandparents began as a way for me to preserve memories and conversations I had with my grandparents over the years. I was close with my grandparents and a lot of our time together centered around breakfast. Getting breakfast tacos was a little ritual we had since I was in grade school. I knew our time together was special and as a photographer, I knew I needed to document it. Over the course of 12 years, I captured over 4,000 photos. These are a few of my favorites.
Fotoseptiembre 2021 Art Exhibit
Friday, Sept. 17, 2021 | 3 to 5 p.m.
Blume Library, Gallery
Every September, Fotoseptiembre USA hosts a photography festival in San Antonio and the Texas Hill Country.
Join us for the art exhibit opening reception, featuring
Raising The Dead by Robert Clare.
Exhibit Dates: Friday, Sept. 17, through Tuesday, Nov. 2